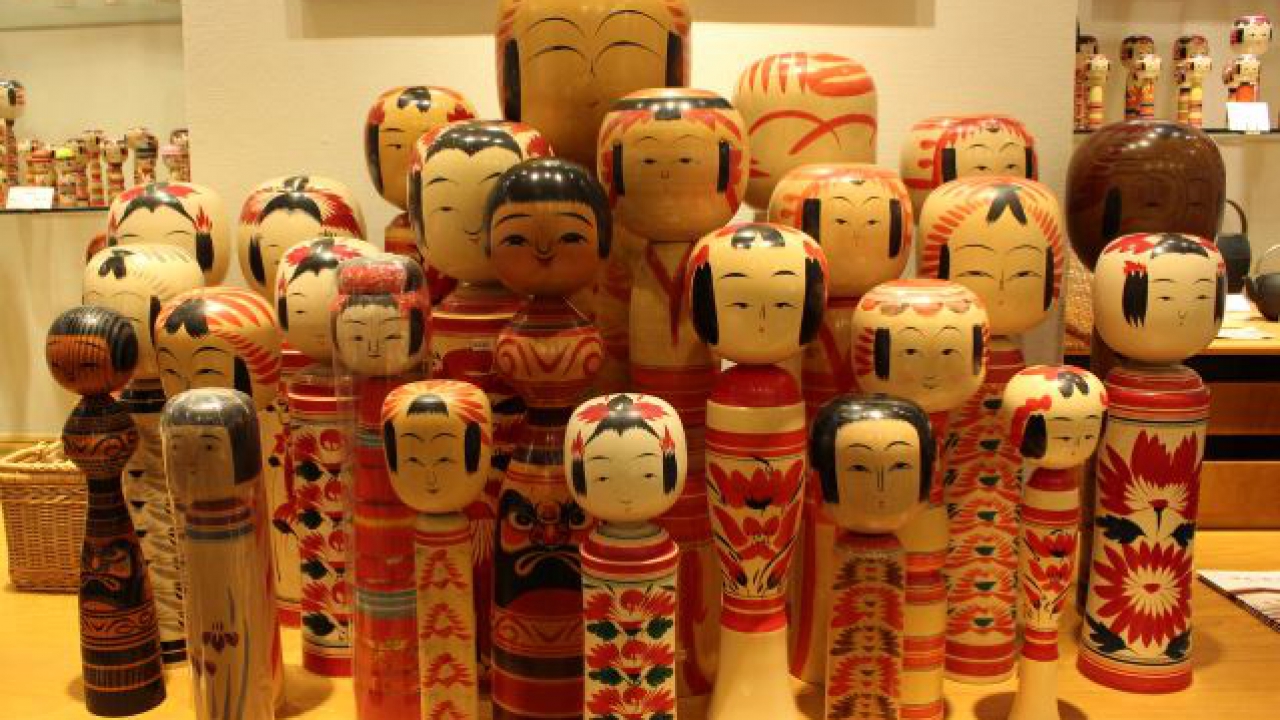 Kokeshi Dolls in Sendai
The Charm of Kokeshi in the Gateway to Tohoku
Traditional wooden kokeshi dolls are popular souvenirs produced around the onsen hot spring areas of the Tohoku region. Of the 11 traditional types, there are 5 types belonging to Miyagi prefecture: Naruko kokeshi, Togatta kokeshi, Hijiori kokeshi, Yajiro kokeshi and Sakunami kokeshi. With a bit of practice, each type can be identified by its particular shape or painted motif. For example, Sakunami kokeshi, which are produced around Sakunami onsen in the hills to the west of Sendai, feature thin bodies, chrysanthemum images, and lathe lines drawn across the waist and shoulders.

There are several places to view and purchase kokeshi even in Sendai. Akiu Traditional Craft Village (http://www.city.sendai.jp/kankokikaku/akiukoge/) in the Akiu hot spring area is a "village" of 9 artisan studios offering experiences and direct sales of local traditional crafts. Among the shops are 3 kokeshi studios! To see rare pre-war kokeshi, why not view the exhibit at Kamei Museum (https://kameimuseum.or.jp/english/kokeshi-dolls/)? If you are walking downtown, don't forget to say "konnichi wa" to the largest kokeshi in Sendai! Since 1960, a 10-meter tall kokeshi monument has welcomed visitors to Nishi Park and Miyagi. For souvenir shopping, stop by "Kokeshi no Shimanuki" while exploring the shopping arcades. This historic souvenir shop sells traditional crafts and kokeshi from around the entire region.

Below is a list of the current kokeshi experience programs you can find around Sendai city and Miyagi prefecture. Discover the charm of kokeshi only in Sendai, Miyagi and Tohoku!