Recommended Reservation Available
Ichinokura Sake Brewery Tour & Tasting Experience 
Enjoy a sake brewery tour where you can experience traditional brewing techniques using your five senses.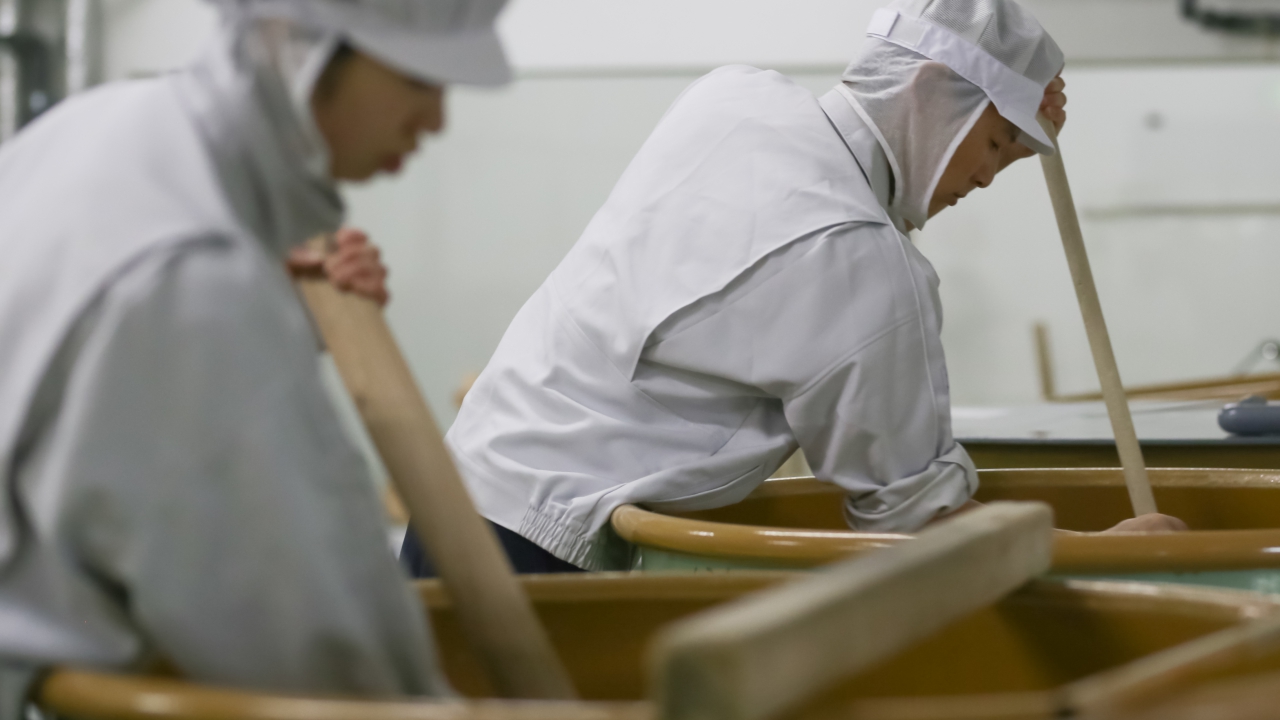 Operation Period
All year round. (Mon~Fri), end of September to mid-June (Saturdays・Sundays・holidays).
Time Required
About 1 hour (however, time can be adjusted based on request of participant)
Number of Participants
1〜80people
Price
0 JPY– (tax included)
---
ーーーーーーーーーーーーーーーーーーーーーーーーーーーーーーーーーーー
In order to help prevent the spread of the new coronavirus in Japan, the Ichinokura brewery tour was suspended on February 27. However, there are now strict safety measures in place which allow us to resume public visits to our facilities on a limited basis. We apologize for the inconvenience, and thank you for your understanding. Please see the details below:

■Opening hours: Weekdays 9:30-16:00 (Last entry 15:00; Closed on Saturdays, Sundays and public holidays)
■Number of people: Up to 20 people at one time (only one group at a time will do the tour)
If there are more than 10 people, the group will be divided into two and guided separately.
■ No admission fee.
■Inside the Brewery (about 60 minutes)
① Watch a video introducing sake brewing at Ichinokura
② Explanation of the company history and brewing process by staff
③ Tasting
④ Shopping
■ Other
・"By Reservation Only." Reservation is required in advance by phone or Email.
・If there is already a group reservation during your desired date and time, we may not be able to accept your request.
・Please make a reservation at least 3 business days in advance.
・You may not be able to enter the facilities without a reservation.

[Our Efforts to Prevent Infectious Diseases]
・Ventilation of the lobby and disinfection of equipment will be carried out after each tour. Therefore, please expect to visit at least 60 minutes or more.
・Staff have their temperatures and physical conditions checked daily, and hands are disinfected regularly throughout the day.
・Staff will wear masks and sanitary gloves.
・We will stop the tasting of koji rice usually offered on the tour for the time being.
・We will serve customers with social distancing in mind to reduce the risk of spreading the infection.
・A partition will be set up at the lobby shop to prevent the spread of infection.

[Requests to Our Customers]
・Please refrain from visiting us if you have any of the following conditions:
* Those who have a fever (37.5 degrees or higher) or cold symptoms, or who are in poor physical condition
*Those who have had close contact with those who are positive for the new coronavirus infection
* Those who have recently traveled outside of Japan or to regions designated by the government as high risk for infection or come into close contact with such a person within the past two weeks.
・Please understand and comply with the following precautionary measures when you visit:
・Please be sure to wear a mask and use alcohol to disinfect your hands when entering the building.
・When entering the building, we will check your temperature and physical condition.
・Please provide your contact information (name, address, phone number, etc.) at the time of booking (when you visit us) as part of ensuring your safety and preventing infection. Your private information will be managed with utmost care according to our internal regulations, and will not be disclosed to a third party unless it is necessary to provide it to public institutions such as public health centers in the event of a related infection case.
・To ensure social distance, each customer will be given a tasting set on a tray during the sake tasting.
・If you are visiting only for shopping, and there are other customers who have made advance reservations when you come, you may have to wait to avoid the groups gathering. We recommend that you contact us in advance regarding the status of your visit time.

Reference: https://ichinokura.co.jp/news/4130 (in Japanese)
ーーーーーーーーーーーーーーーーーーーーーーーーーーーーーーーーーーーー
You can learn about our handmade sake made using traditional fermentation techniques with explanations from a guide and information panels on a dedicated tour course. In addition, you can experience this tour with the five senses, such as touching sake brewing tools and tasting koji rice, a raw material of sake (only available during the production hours). After the tour, you can sample several kinds of sake, and you can purchase exclusive Ichinokura sake brewery souvenirs not available anywhere else.

① Watch a DVD introducing Ichinokura's sake brewing (6-11 minutes).
② Enjoy a sake brewery tour with explanations by a company staff guide (20-60 minutes).
③ Sample Ichinokura's specially-brewed "sake" (several types with their own characteristics) and sweet, non-alcoholic "amazake."
④ Have an opportunity to purchase an exclusive sake limited to Ichinokura Brewery study tour participants, as well as other select Ichinokura goods.
⑤ Finally, take a commemorative photo in front of the symbol of a sake brewery, our sakabayashi cedar ball. (In addition, we have props to take commemorative photos.)

Sake brewery tours are also possible on weekends and holidays from late September to mid-June, but it is a self-guided course without a guide. Also, the only sake you will be able to purchase is the "Kura Kengaku Kinenshu" ("Study Tour Souvenir Sake"). If you are a group (10 to 40 people) and wish to have guided explanation on a weekend or holiday, please consult with us at least one week in advance. During the summer season from mid-June to late September, self-guided tours are unavailable during non-business days.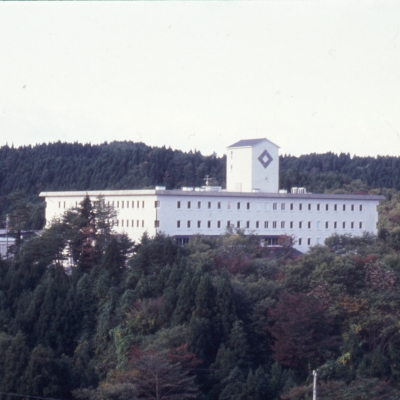 See for yourself the detailed process of how sake is made, and learn about the passion behind the brewer's "labor of love." You will surely appreciate sake more after visiting! Make sure to stop by Ichinokura Brewery while traveling through the Tohoku region of Japan. We are just a short trip away from Sendai, Miyagi Prefecture.
---
---
| | |
| --- | --- |
| Experience Program Name | Ichinokura Sake Brewery Tour & Tasting Experience  |
| Activity Location | Ichinokura Brewery main kura(the place where sake is made is called a "kura") |
| Operator Name | ICHINOKURA Co., Ltd |
| Telephone Number | 0229-55-3322 |
| URL | https://ichinokura.co.jp/ |
| Time Required | About 1 hour (however, time can be adjusted based on request of participant) |
| Operation Period | All year round. (Mon~Fri), end of September to mid-June (Saturdays・Sundays・holidays). |
| Start Time | 9:30~16:00 (please come at your reservation time) |
| | |
| --- | --- |
| Minimum number of participants | 1people |
| Maximum number of participants | 80people |
| Reservation Deadline | 1 days before by 16:00 |
| About suspension of the activity | In stormy weather such as typhoons, tours may be unavailable. In such case, we will contact you. |
| Important notes regarding participation | Anyone may join the study tour, but after the tour, sake tasting is not allowed for those under 20 years old and those driving. Also, those under the age of 20 cannot purchase alcohol. |
| | |
| --- | --- |
| Price | |
| What is included in the price | Study tour and sake tasting. |
| Method of Payment | After the study tour, you are able to purchase our company's products in the following ways: cash, credit card (lump-sum payment only), Rakuten PAY・auPAY・PayPay・LINE Pay, etc. |
| About cancellations and changes | In case of cancellation or changes, please contact us as soon as possible. |
| Cancellation Policy | The study tour is free, so we do not charge a cancellation fee. |
Meeting Spot
14 Okeyaki, Sengoku, Matsuyama, Osaki-shi, Miyagi-ken 987-1393

Meeting Time
Please come at your reservation time. Contact us if you will arrive late.
Access
<By Public Transportation> 
10 minute taxi ride from JR Tohoku Honsen "Matsuyamamachi Station"
(Sanbongi Taxi TEL 0229-52-3131 ※no operation on Sundays or holidays)
(On Sundays/holidays, please use a taxi from Kashimadai Station or Kogota Station.

<By Car> 
25 minutes from Tohoku Expressway "Taiwa IC" or 30 minutes from Matsushima.
Parking
Yes
Room for 10 standard-sized cars or 3 large buses, no reservation necessary, free.
Facility Information
Restroom at the first floor lobby.
Barrier-free Access
Yes
1 wheel chair, ramps, elevator. For other inquiries, please contact us.
About Guides and Tours
On regular business days, explanations are provided by staff. During non-business days from September to June, groups of 10 to 40 participants may receive an explanation by staff if they make a reservation at least one week in advance.
About multi-lingual support
Japanese/English/Chinese (Simplified)/Chinese (Traditional)/Korean
There are staff who can guide in English (the number is limited, please consult in advance). Also there is a diagram in English about the sake manufacturing process. Lastly, there are company brochures available in English, simplified Chinese, traditional Chinese, and Korean.
Similar experience programs
---